We provide total support for solutions to challenges customers
face through synergies between our three businesses
TOPPAN's business fields are divided into three core areas: Information & Communication, Living & Industry, and Electronics.
Each business field has developed and diversified based on TOPPAN's strength in "printing technologies."
In today's world, where we are required to respond to a wide variety of challenges, we will provide total solutions through collaboration between our three business fields to address challenges for numerous customers and society.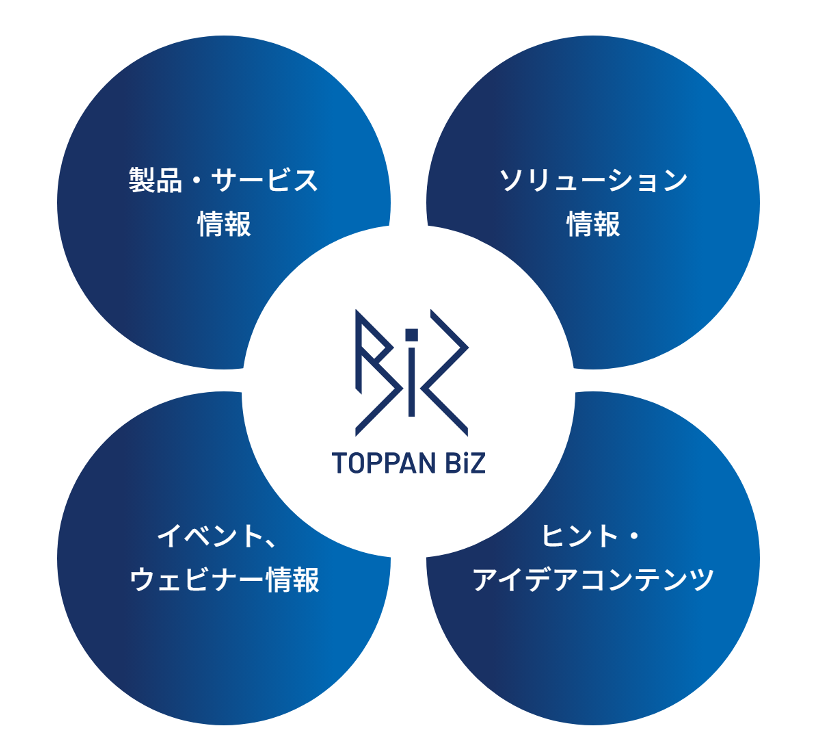 "TOPPAN BiZ" is the TOPPAN Group's integrated portal providing information on products, services and solutions that can be used immediately. It also offers hints and ideas for creating future businesses and information on related events and webinars to deliver solutions to all our customers and society.
Information & Communication
In an information environment that changes at high speed, we need to constantly update forms of communication.
We resolve these issues with "Living Experience Design", an end-to-end solution that combines varied knowledge in such areas as marketing, creativity, and security.
We will support our customers' digital transformation by building a new information communication structure that leverages our resources and know-how.
Living & Industry
The technology we have cultivated over many years in the fields of packaging and décor materials is expanding from lifestyle proposals to the life science field, based on the concepts of sustainability and diversity in the global market.
By evolving and fusing these technologies and leveraging our collective strengths, we will work with our customers to develop solutions that create "life value" and drive the development of environments where people can live vibrant lives.
Electronics
With the foundation of our accumulated technological capabilities, we address customers' diversifying future needs and drive evolution of TOPPAN's fundamental technologies, including surface treatment and photolithography. By building a technology development system that allows for dialogue with the market, we propose total solutions that go beyond providing parts and materials and create new value for customers in the electronics field who are required to respond to rapid changes both domestically and internationally.