Anti-reflection films for various types of displays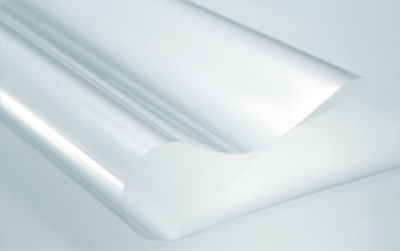 Antireflection film is an optical film to be laminated on the front surface of a display in order to minimize reflection of light from outside and of viewing person. Various types of antireflection films can be provided for different applications, examples of which include low reflection (LR) film that realizes the excellent antireflection property, antistatic performance and higher contrast; antiglare (AG) film that controls reflection with excellent antiglare properties.
In addition, such film effectively protects the display by reinforcing physical properties, durability and anti-soiling.
Preventing Light Reflection (LR)
The film structure is designed so that the lights reflected on the antireflection layer and the boundary face of the base film have the same amplitude with the opposite phase. Reflection is restrained as two different lights are negated by interference.

Preventing Screen Glare (AG)
Within the hard coated layer that was formed over the base film, microparticles whose light refraction factors differ from that of its resin are deployed. As such particles disperse external light, glare on the screen is diminished.

Features of the product
Roll-to-roll type, allowing mass production
Overall production including hard coat and saponification process

Product Type
LR
(Low Reflection)
AG
(Anti Glare)
CHC
(Clear Hard Coat)
Reflectance
0.7%~1.0%
-
4.0%
Structure

Features

High contrast (color reproducibility)
Low reflectivity
High antistatic performance
High dirt resistance

Reflection prevention
Lineup of low haze products
(High haze - Low haze)

Highly uniform interference
High surface hardness
Low cost

Main Applications
TV , Monitor , Notebook PC , etc.