Copper touch sensor for touch panels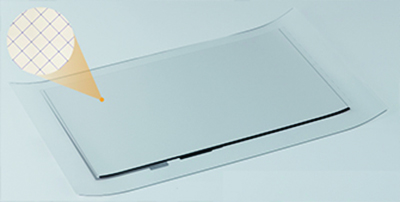 TOPPAN has developed the copper sensor film for projected capacitive (PCAP) touch panels, utilizing its microfabrication technologies for electronics products.
Improved operatability, increase in size and decrease in weight are achieved by lowering the resistance level by using copper as elecetrode material.
Features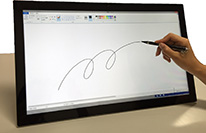 This touch sensor film is developed for PCs, large displays and digital signage. Cu film is patterned by advanced etching technology to form hi-definition electrode. Moreover black treatment was carried out on the copper (electrode) to improve visibility and contrast.
| | |
| --- | --- |
| | → Increase in size, Noise resistance, High speed, Narrow bezel |
| | → High visibility |
| Copper blackening treatment | → Improved contrast |
| Form electrode & take-out wire in one process | → Narrow bezel, Stable quality, Shorter processes (low cost) |
Specification
Base Material

: PET(50μm,100μm)

Pattern
Minimum line width

: Sensor part 3μm

Minimum line width

: Wiring part 15μm

Minimum gap

: Wiring part 20μm

performance
Resistance value
: State of mesh pattern 5Ω
Transmission rate
: State of touch panel 88%
Haze value
: State of touch panel 1.5%
Blackening treatment
: 4 surface blackening treatment
Maximum size
: ~60inch(Maximum width = 800mm)